BodyHerbals 1 minute pedicure, Foot Scrub Tea Tree oil, lemon oil & vitamin B3 Scrub(100 g)
---
Is this the best time to buy this product?
BodyHerbals 1 minute pedicure, Foot Scrub Tea Tree oil, lemon oil & vitamin B3 Scrub(100 g)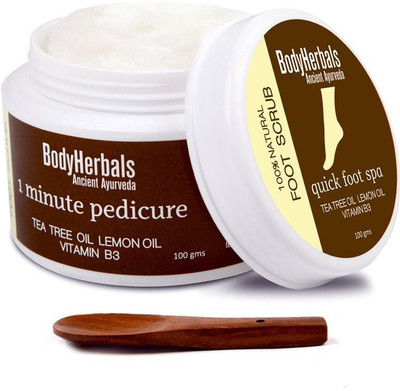 More Price List for BodyHerbals 1 minute pedicure Foot Scrub Tea Tree oil lemon oil vitamin B3 100 gms 100 Natural
The aromatic blend of herbs with essential oils mixed with rock granules provide powerful exfoliation & slough away rough patches from coarse feet. Lemon oil has cleansing & purifying properties. Tea tree oil is anti -bacterial. Vitamin B-3 provides hydration & nourishment to the skin.
We have searched 1 shopping portals for BodyHerbals 1 minute pedicure Foot Scrub Tea Tree oil lemon oil vitamin B3 100 gms 100 Natural and we have found a total of 5 products matching BodyHerbals 1 minute pedicure Foot Scrub Tea Tree oil lemon oil vitamin B3 100 gms 100 Natural
We have found 2 products on Flipkart,
The lowest price of Rs. 315 for BodyHerbals 1 minute pedicure Foot Scrub Tea Tree oil lemon oil vitamin B3 100 gms 100 Natural was found on Flipkart
The highest price of Rs. 315 for BodyHerbals 1 minute pedicure Foot Scrub Tea Tree oil lemon oil vitamin B3 100 gms 100 Natural was found on Flipkart
Difference between the lowest and highest prices of BodyHerbals 1 minute pedicure Foot Scrub Tea Tree oil lemon oil vitamin B3 100 gms 100 Natural is 0
The average price of BodyHerbals 1 minute pedicure Foot Scrub Tea Tree oil lemon oil vitamin B3 100 gms 100 Natural is Rs. 315

Products You might be interested