Dalan Castile beauty soap Olive Oil (Pack Of 3 X 100 Gms) & Cocoa Butter (Pack Of 3 X 100 Gms) - Total 6 pcs(600 g, Pack of 6)
---
Is this the best time to buy this product?
Dalan Castile beauty soap Olive Oil (Pack Of 3 X 100 Gms) & Cocoa Butter (Pack Of 3 X 100 Gms) - Total 6 pcs(600 g, Pack of 6)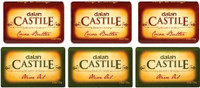 DALAN Castile beauty soap Olive Oil (Pack Of 4 X 100 Gms) & Cocoa Butter (Pack Of 4 X 100 Gms) - Total 8 pcs
More Price List for DALAN Castile beauty soap Olive Oil Pack Of 4 X 100 Gms Cocoa Butter Pack Of 4 X 100 Gms Tot
A combined pack of Cream based beauty soap with olive oil base & beauty soap with cocoa butter base (rich cocoa fragrance). Olive oil soap is considered to be the best remedy for dry skin as it helps to exfoliate dead cells and flaky skin. Its moisturizing properties help to soften the skin texture, leaving you with beautiful glowing skin. Olive oil soap helps in reduction of cell deterioration of the skin. Olive oil soap is a great remedy for those suffering from acne problems as it doesn't clog your pores unlike other skin moisturizers. Olive oil soap has also proven to treat skin rashes. It can also be used to reduce the side effects from sun burns. Olive oil consists of vitamin E, which acts as a great antioxidant. Unlike regular soaps, you can be sure that after using olive oil soap you would not experience dry itchy skin. The best part is that olive oil soap is completely natural and will not harm the skin texture in any way. Cocoa Butter, also called Cacao Butter, is the cream-colored fat extracted from cacao seeds (cocoa beans) and used to add flavor, scent, and smoothness to chocolate, cosmetics, tanning oil, soap, and a multitude of topical lotions and creams. Cocoa Butter has been called the ultimate moisturizer, and has been used to keep skin soft and supple for centuries. It is one of the most stable, highly concentrated natural fats known, and melts at body temperature so that it is readily absorbed into the skin. When applied topically, it creates a barrier between sensitive skin and the environment and also helps retain moisture. Cocoa Butter contains a number of different antioxidants that can kill off a wide range of different free radicals that destroy your skin cells and lead to premature aging. This makes it an ideal skin care product.
Pack of: 4


Fragrance: Pleasant


For Men


Organic Anti-septic Soap


We have searched 2 shopping portals for DALAN Castile beauty soap Olive Oil Pack Of 4 X 100 Gms Cocoa Butter Pack Of 4 X 100 Gms Tot and we have found a total of 201 products matching DALAN Castile beauty soap Olive Oil Pack Of 4 X 100 Gms Cocoa Butter Pack Of 4 X 100 Gms Tot
We have found 23 products on Amazon, 1 products on Flipkart,
The lowest price of Rs. 285 for DALAN Castile beauty soap Olive Oil Pack Of 4 X 100 Gms Cocoa Butter Pack Of 4 X 100 Gms Tot was found on Flipkart
The highest price of Rs. 380 for DALAN Castile beauty soap Olive Oil Pack Of 4 X 100 Gms Cocoa Butter Pack Of 4 X 100 Gms Tot was found on Amazon
Difference between the lowest and highest prices of DALAN Castile beauty soap Olive Oil Pack Of 4 X 100 Gms Cocoa Butter Pack Of 4 X 100 Gms Tot is 0
The average price of DALAN Castile beauty soap Olive Oil Pack Of 4 X 100 Gms Cocoa Butter Pack Of 4 X 100 Gms Tot is Rs. 332.5

Products You might be interested