Dhawan Birdie Plastic Fruit Fork Set(Pack of 14)
---
Is this the best time to buy this product?
Dhawan Birdie Plastic Fruit Fork Set(Pack of 14)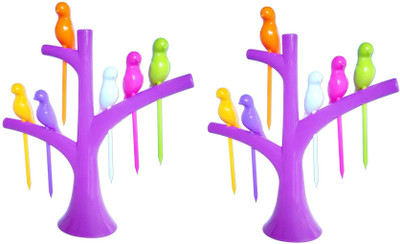 More Price List for Dhawan Birdie Plastic Fruit Fork Set
Six tiny skewers made from 100% recyclable plastic are slotted into the holes of an arboreal stand so that their adorable avian tops assemble the image of birds on branches. This Pick Set's parts can be conveniently washed and used over and over again.Party tweets - Set of Six little birdies - Come with a stand designed like a branch - Colorful so you don't mix your sticks - Reusable - Makes a cute table top when not in use.Have a party of Fruits or salads it will be handy.Caution:Never put it into dishwasher, Microwave Oven, Electromagnetic Oven. Put it far away from fire source.Keep away from toddlers & kids, do not use it as a toy. Not to be used as tooth-stick, earbud etc.
We have searched 1 shopping portals for Dhawan Birdie Plastic Fruit Fork Set and we have found a total of 11 products matching Dhawan Birdie Plastic Fruit Fork Set
We have found 9 products on Flipkart,
The lowest price of Rs. 127 for Dhawan Birdie Plastic Fruit Fork Set was found on Flipkart
The highest price of Rs. 127 for Dhawan Birdie Plastic Fruit Fork Set was found on Flipkart
Difference between the lowest and highest prices of Dhawan Birdie Plastic Fruit Fork Set is 0
The average price of Dhawan Birdie Plastic Fruit Fork Set is Rs. 127

Products You might be interested