Macroeconomic Essentials: Understanding Economics In The News 3rd Edition(English, Paperback, Peter E. Kennedy)
---
Is this the best time to buy this product?
Macroeconomic Essentials: Understanding Economics In The News 3rd Edition(English, Paperback, Peter E. Kennedy)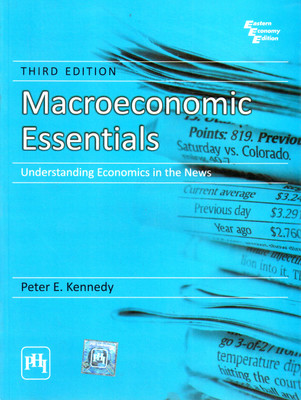 This introductory text offers an alternative to the encyclopedic, technically oriented approach taken by traditional textbooks on macroeconomic principles. Concise and non-technical but at the same time rigorous, its goal is not to teach students to shift curves on diagrams but to help them understand fundamental macroeconomic concepts and their real-world applications. This is accomplished by the clear exposition of introductory macroeconomic theory provided in the book along with more than 700 two/three sentence "news clips" of economics media coverage that serve as illustrations/exercises of the concepts discussed. This updated edition includes subprime mortgage crisis and other subjects; new "curiosities" (boxed expositions of important topics) have been added, as have "news clips" about recent events; and the most challenging end-of-chapter questions are now separated from the less challenging. Many chapters include a set of numerical exercises (quite different from those found in traditional texts); a sample exam question appears at the end of each section within a chapter; and a test bank of multiple-choice questions (with answers) is available online. Technical material appears in appendices following each chapter. Other appendices offer answers to the sample exam questions and the even-numbered end-of-chapter exercises. "By setting aside much of the formal apparatus of 'curve-shifting' economics, Macroeconomic Essentials focuses attention just where it should be—on understanding key concepts and on thinking. At the center of economics is, after all, the study of human behavior, not the art of mathematical manipulation." Table of Contents Preface 1.Introduction, 2. The Basics of Supply and Demand, and a Big Picture, 3. Measuring GDP and Inflation 4. Unemployment 5. The Role of Aggregate Demand 6. The Supply Side 7. Growth and Productivity 8. The Money Supply 9. The Monetarist Rule 10. Monetary Policy and Interest Rates 11. Real-versus-Nominal Interest Rates 12. Stagflation 13. The Balance of Payments 14. Policy in an Open Economy 1 5. Purchasing Power Parity 16. Interest-Rate Parity. Appendix A Answers to Sample Exam Questions, Appendix B Answers to Even-Numbered Exercises, Glossary, Index.
We have searched 1 shopping portals for Macroeconomic Essentials Understanding Economics In The News 3rd EditionEnglish Paperback Peter E Ke and we have found a total of 2 products matching Macroeconomic Essentials Understanding Economics In The News 3rd EditionEnglish Paperback Peter E Ke
We have found 1 products on Flipkart,
The lowest price of Rs. 390 for Macroeconomic Essentials Understanding Economics In The News 3rd EditionEnglish Paperback Peter E Ke was found on Flipkart
The highest price of Rs. 390 for Macroeconomic Essentials Understanding Economics In The News 3rd EditionEnglish Paperback Peter E Ke was found on Flipkart
Difference between the lowest and highest prices of Macroeconomic Essentials Understanding Economics In The News 3rd EditionEnglish Paperback Peter E Ke is 0
The average price of Macroeconomic Essentials Understanding Economics In The News 3rd EditionEnglish Paperback Peter E Ke is Rs. 390

Products You might be interested