Picasso Premium Jumbo Roti/Khakhra Maker(Black)
---
Is this the best time to buy this product?
Picasso Premium Jumbo Roti/Khakhra Maker(Black)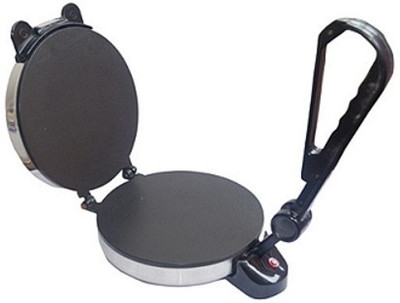 No mess, no fumes. Make just the perfect rotis by bringing home this roti maker from Picasso. It features two plates that get heated quickly, thereby letting you prepare rotis in a jiffy and with less manual work. Material This roti maker is made of high-grade stainless steel which makes it sturdy and durable.  Non-stick coating and Red light indicator With a non-stick coating, this roti maker ensures that the dough does not stick to its surface. The red light indicator alerts you every time you turn the roti maker on and off. It is easy to operate and very comfortable to handle. 
We have searched 1 shopping portals for Picasso Premium Jumbo RotiKhakhra Maker and we have found a total of 2 products matching Picasso Premium Jumbo RotiKhakhra Maker
We have found 1 products on Flipkart,
The lowest price of Rs. 860 for Picasso Premium Jumbo RotiKhakhra Maker was found on Flipkart
The highest price of Rs. 860 for Picasso Premium Jumbo RotiKhakhra Maker was found on Flipkart
Difference between the lowest and highest prices of Picasso Premium Jumbo RotiKhakhra Maker is 0
The average price of Picasso Premium Jumbo RotiKhakhra Maker is Rs. 860

Products You might be interested