Pigeon Deluxe Aluminium Pressure Cooker, 5 Litres, Silver
---
Is this the best time to buy this product?
Pigeon Deluxe Aluminium Pressure Cooker, 5 Litres, Silver
Pigeon Deluxe 5 L Pressure Cooker(Aluminium)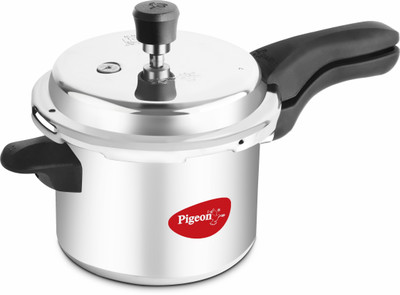 Pigeon Deluxe Alluminium Pressure Cooker 5 Ltr and Green Handy Mini Chopper with 3 Blades Combo
More Price List for Pigeon Deluxe 5 L Pressure Cooker
Crafted for Faster and Simpler Cooking , Designed to offer a balance of quality and convenience, the Pigeon Deluxe pressure cooker is made from high grade aluminium that conforms to IS 21:1992 quality standards. Featuring a dependable built, including a sturdy body and lid, this pressure cooker will last for a long time even with daily use. The anti-deflecting bottom and tough wall ensures strength and durability. Furthermore, this cooker features an ergonomic handle that allows users to have a firm grip and ease of use at the same time, making it convenient and safe. Built with Safety Features, This pressure cooker features an all-important seal ring that allows the pressure to be maintained in the cooker and keeps it airtight so that the food is cooked well. The Pigeon Deluxe aluminium pressure cooker contains gaskets made of food grade nitrile rubber. To make it a safe cooking option, the lid is equipped with a Gasket Release System, and the Gasket Release Vent System releases the excess pressure accumulated in the cooker. A calibrated stainless steel weight valve regulates the pressure, while a safety plug made from a fusible alloy melts when the pressure or temperature exceeds the safety level. These safety features make this pressure cooker an ideal cookware choice for you and your family.
We have searched 2 shopping portals for Pigeon Deluxe 5 L Pressure Cooker and we have found a total of 13 products matching Pigeon Deluxe 5 L Pressure Cooker
We have found 10 products on Flipkart, 2 products on Amazon,
The lowest price of Rs. 919 for Pigeon Deluxe 5 L Pressure Cooker was found on Amazon
The highest price of Rs. 2150 for Pigeon Deluxe 5 L Pressure Cooker was found on Amazon
Difference between the lowest and highest prices of Pigeon Deluxe 5 L Pressure Cooker is 0
The average price of Pigeon Deluxe 5 L Pressure Cooker is Rs. 1438

Products You might be interested